We're excited to say that our Pullman Camping Coach Restoration project, funded by the National Lottery Heritage Fund,  is now well and truly underway!
On this page, you can see all the work that has been going on to restore our historic Pullman Camping Coaches.  The project is on track to be completed very soon and you can now book your stay.
April 2021
There was a lot of work to be done in this National Lottery Heritage Fund restoration project to be completed by April 2021. The team really came together on this one and we're excited to welcome guests to come and enjoy them once more.
A Sneak Peek Inside the Coaches as they Reach Completion 2/4/2021
Time lapse photography from our contractor showing the restoration of the marquetry panels.
Progress Gallery
December 2020
Although lockdown brought a halt to many things, our cameras were still rolling. Take a peek at what the end of 2020 looked like for our Pullman Carriages
October 2020
A very special Saturday Swanabout!
September 2020
We are pleased to announce that work on our iconic Camping Coaches gets underway from Tuesday 8 September 2020.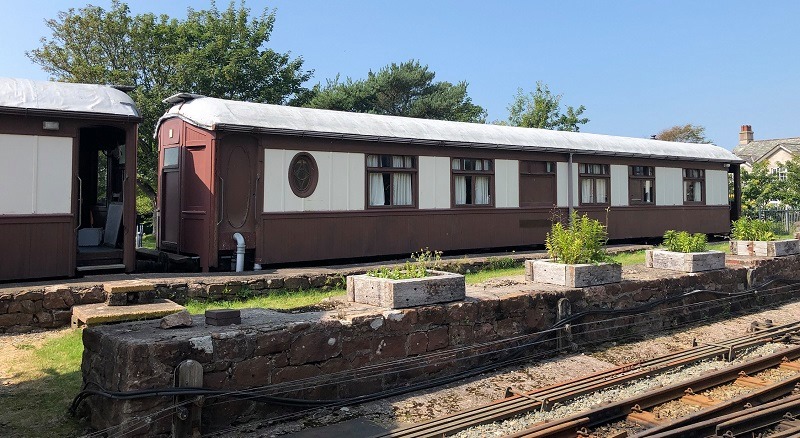 Made possible by National Lottery players, the funding has been awarded to a partnership between the Ravenglass Railway Museum Trust  and the Ravenglass & Eskdale Railway.
The project will see the transformation of our two 1917 Pullman Camping Coaches into quirky self-catering accommodation, together with a new sensory garden. The historic vehicles are currently in a critical state of disrepair, but this vital restoration will conserve their structures and preserve original interior features such as the highly-crafted, decorative marquetry panels.

Originally built more than 100 years ago as part of a World War One Ambulance Train, 'Elmira' and 'Maid of Kent', are the oldest Railway 'Camping Coaches' still in their original location – uniquely situated in a coastal setting within two UNESCO World Heritage Sites: The Lake District National Park and Hadrian's Wall (Frontiers of the Roman Empire).
The historically important coaches were rebuilt as Pullman Dining Cars in 1921 and converted into Camping Coaches by British Rail in 1960. Work will now get underway to restore the coaches' historic features to their former glory, combined with striking new visitor accommodation for between four and six people.
The coaches will also be opened up at selected times for pre-booked, socially distanced visits. The project will unfold on social media so people can follow the project every step of the way, enabling more people to enjoy them and learn about their heritage.
The exciting new plans even include planting a sensory and wildlife garden to support the natural ecosystem and enhance visitors' stays. Located in close proximity to the Cumbrian Coastal Way, this is a timely boost for people's renewed focus on health and wellbeing following lockdown.
Work on the project will get underway from 8 September, with the aim of finishing the restoration by early Spring 2021.